Mazda CX-30 Vs Subaru Crosstrek Vs Volkswagen Taos: Comparison

Experts everywhere are trading opinions and reviews of the top-tier crossover SUVs currently available, especially the Mazda CX-30 vs. Subaru Crosstrek vs. Volkswagen Taos models. Take in our guide to the SUV models that prove that big things can come in packages of any size.
The Volkswagen Taos, Mazda CX-30, and Subaru Crosstrek sprint past other models to the mountaintop because they have quality features and materials within and pinpoint style on the surface. Local drivers and some of the industry's most respected voices when it comes to overall value agree that these three models are a step above the rest.
Crossover SUVs That Are Built To Please
We've got everything you need to know about the Mazda CX-30 vs. Subaru Crosstrek vs. Volkswagen Taos models all in one place. Read all about this scintillating SUV trio right now, and get your hands on the wheel of a new SUV model soon.
Local drivers in our neck of the woods love the Volkswagen Taos because it's a beautiful blend of style and substance that walks the walk. Boldly designed to capture your eye and available in several exterior colors that immediately grab the envious onlooker's eye, this SUV is dressed for success inside and out. Once you sit in the dynamic Volkswagen Taos interior, you'll feel a captain's confidence as you employ all kinds of futuristic features. Open up the available sunroof with the touch of a button and lean back into leather seating surfaces that make every trip as comfortable as can be.
The first time you test drive the Volkswagen Taos, you'll see why so many of our neighbors have decided that this crossover SUV is the car they want in their new Volkswagen deal.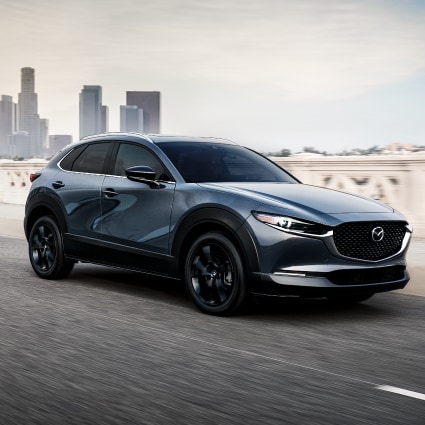 2021 Mazda CX-30
---
Starting at $27,995
2.5L 4cyl CVT
182 hp @ 5800 rpm
All wheel drive
Continuously variable-speed automatic
27 / 34 / 30 mpg
20.8 cu. ft. cargo space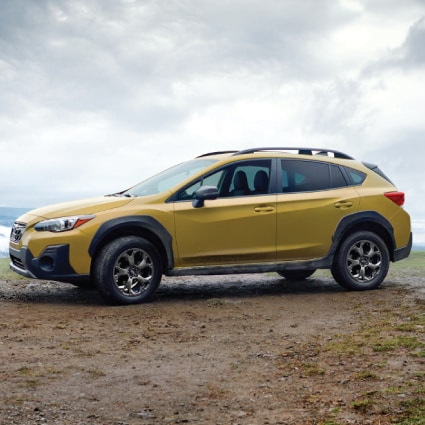 2021 Subaru Crosstrek
---
Starting at $30,100
2.5L 4cyl 6A
186 hp @ 6000 rpm
All wheel drive
6-speed shiftable automatic
25 / 32 / 27 mpg
20.2 cu. ft. cargo space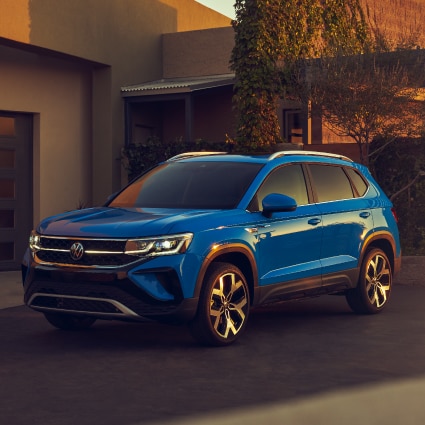 2021 Volkswagen Taos
---
Starting at $22,995
1.5L 4cyl Turbo 8A
158 hp @ 5500 rpm
Front wheel drive
8-speed shiftable automatic
28 / 36 / 31 mpg
27.9 cu. ft. cargo space
About the Mazda CX-30 Turbo and Subaru Crosstrek Hybrid
The Mazda CX-30 turbo is a modern marvel that will mesmerize you when you see how the light reflects off of its frame. The art of light and shadow is present at every turn in a car that clearly exemplifies what an artist's touch can do. Seven trim levels are available for an SUV model that easily connects to your smartphone without creating a tangled mess of wires. The Mazda CX-30 ground clearance ensures you'll be able to get over a range of terrains, and the industry's foremost experts on safety agree that this car is a great choice for families that want to keep everyone safe and sound, whether you're transporting a ton of cargo or want to pack in the whole crew for a trip out to the countryside, up to the mountains, or out to the beach.
If you're all about efficiency and having an SUV that is always down for an adventure, sample the crossover SUV models from Subaru. The Subaru Crosstrek hybrid has a ton of interior volume for your most precious passengers to stretch their arms and legs, plenty of room for suitcases, sets of golf clubs, camper chairs, furniture, and more. Stretch your wings in the Subaru Crosstrek sport and fly through the streets in attention-grabbing exterior colors like Plasma Yellow Pearl, Pure Red, Lagoon Blue Pearl, and Crystal Black Silica.
FAQ About the Mazda CX-30 Vs Subaru Crosstrek Vs VW Taos
As you can see, there's plenty on the table when you're talking about the Mazda CX-30 vs Subaru Crosstrek vs VW Taos models. Here are some questions we hear about these three stellar crossover SUVs from solo drivers and families alike that are interested in what their next model should be.
Where is the Volkswagen Taos made?
The Volkswagen Taos for North America is produced at the General Pacheco plant in Argentina, far from our local dealership.
Is the Volkswagen Taos replacing the Tiguan?
The Volkswagen Taos, which fits in the subcompact SUV class, is an all-new release. Volkswagen released the 2022 VW Taos as its own model to complement the Tiguan, but in a smaller form with two rows. The VW Taos has its own signature sporty design and also a hearty engine that brings forth rip-roaring power and elite fuel economy. It's an outstanding option for families looking to make the most out of every trip.
Does the Mazda CX-30 hold its value?
The value of a car can vary a lot according to climate, condition, wear and tear, and other factors. When determining how your car will hold its value over time, pay attention to those factors and the types of trips you think your next car will be making. Some experts believe that a Mazda CX-30 will depreciate 40% after five years and have a five-year resale value of $15,960.1
What is wrong with the Subaru Crosstrek?
One issue that some Subaru Crosstrek drivers have reported has to do with the windshield. Some online reviews have reported a few instances in which drivers of the Subaru Crosstrek crossover SUV have experienced cracks in their windshield from errant small stones thrown up from the road. While this isn't something totally out of the norm or specific to the Subaru Crosstrek hybrid model, the windshield of these Subaru models has to be replaced at an official Subaru dealer. The new Eyesight technology embedded within the windshield isn't available for a quick fix.
Visit O'Steen Volkswagen
We encourage you to visit your local dealer and ask one of our friendly car experts about the Volkswagen Taos price. They'll introduce you to various ways you can get into this new SUV from Volkswagen and see how those options work for you. After getting to know better all that you're envisioning for your next car, they'll work with you to make your most glory-filled driving visions come to life.
We're well-regarded as a trusted voice when it comes to cars because we provide all kinds of selection and service at our Volkswagen dealer in Jacksonville. We have several trim levels available and exterior colors that are ripe for lease or purchase today. If you're not sure which option is best for you, we'll delve through all of the benefits of both options and set you up well.
Drive the Volkswagen Taos Today
Test drive a Volkswagen Taos today and see all that this bold beauty can bring to your garage. It's a car that leans on a legendary lineage for premium precision, and you'll feel how smoothly this crossover SUV handles regardless of what you're driving over. It's ready to traverse adverse driving situations and power through climates that other cars don't want to take on. It's durable, dynamic, and always down to make your schedule less hectic.
It's one of the top new Volkswagen cars for sale in Jacksonville because it's got everything you can ask for from an SUV and more. It's a first-tier SUV in safety, speed, and style, whether you're trusting the judgment of the nation's car experts or one of our neighbors.
The trio of Mazda CX-30 vs. Subaru Crosstrek vs. Volkswagen Taos models can do it all. These SUV models don't just excel in one category but bring it across the board. Choose one today and take your weekend getaways to the next level in a car that achieves five stars in every category.
---
1Mazda CX-30 Costs. Car Edge: Car Depreciation by Make and Model. (n.d.). https://caredge.com/mazda/cx-30.